El Desemboque
Caborca beaches on the Sea of Cortez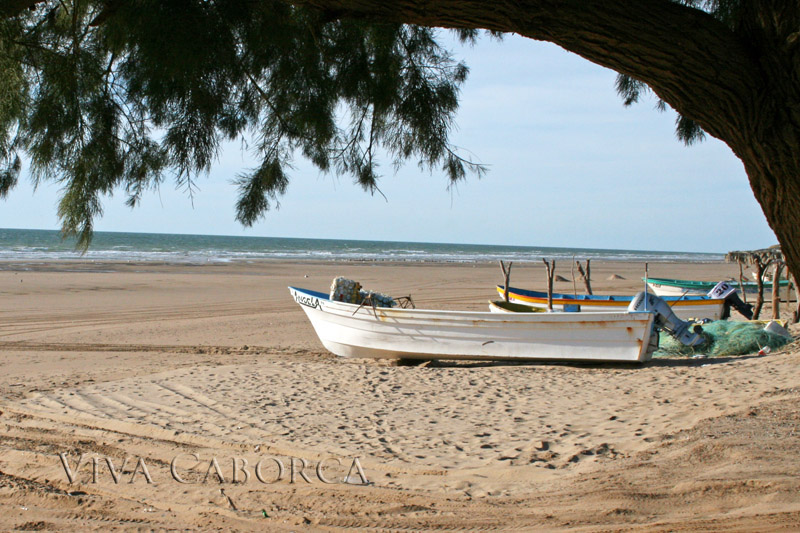 Desemboque (pronounced dess-em-boe-kay) is a very small fishing village about an hour's drive west of Caborca. The water is warm and inviting, and during the week the beach is generally not crowded (except during the springtime Easter semana santa vacations), as gringos typically opt for more developed areas like Rocky Point.
The area was opened as a free trade zone a couple of years ago by Mexican President Vicente Fox, and Americans are buying up much of the land around the area. For now though, it's still a small, quiet fishing village where you can enjoy the beauty and solitude of the sea.
It takes about an hour to drive to Desemboque from Caborca, driving west on Sonora highway 37. The road has some rough spots, but is generally in pretty good condition.
To get there from Caborca, drive west on Calle Obregon until it turns into Sonora highway 37. The highway is clearly marked, and you'll see the stadium to your right as you're leaving town, and the Cerro de la Virgin on the right side of the road about four miles outside of Caborca. The two-lane highway passes some beautiful desert scenery, which includes a few of Caborca's ejidos (land owned as a cooperative among its residents) as well as agricultural lands where you'll see grapes (or asparagus, depending on the time of year), olives, pecans, forage and other crops that are grown here.
After driving about 40 miles you'll come to a fork in the road, which is the pueblo of La Igriega (which literally means "Y," referring to the shape of the road where it forks). Driving toward the west, the right turn of the fork is the road to Rocky Point. Continue driving west (straight ahead) to reach Desemboque.
La Igriega is part of Caborca (the municipality of Caborca stretches to the sea and also includes Desemboque), but doesn't offer many services other than a new Pemex station, a police sub-station, expendios, some mini-supers, mechanics and llanteras (tire repair shops).
The road is at its roughest for the last 25 miles or so into Desemboque, but it's still not too bad. You'll see a couple of turnoffs for other beaches along the way, but unless you have a four-wheel-drive vehicle and a means of communicating if you get stuck (or don't mind walking) they're not recommended.
Although there are a couple of restaurants and "mini-supers" in town, Desemboque doesn't yet offer much in the way of tourist services (there's only one hotel, although it's in a location that overlooks the beach). So, if planning to have a picnic or grill on the beach, before leaving Caborca you'll need to stop by a grocery store to buy what you need.
Desemboque is basically a sleepy little fishing village, where most of the friendly residents are engaged at some level in the commercial seafood industry. If you leave the main road, watch out for soft spots of sand, if you don't pass through them with a sufficient amount of speed you'll get stuck. If that happens though, one of the vehicles on the beach that brings in the fishing boats will be glad to help pull you out (something I learned from personal experience).